Devlog 3 - Lovecraft inspiration, pastel colors and milestone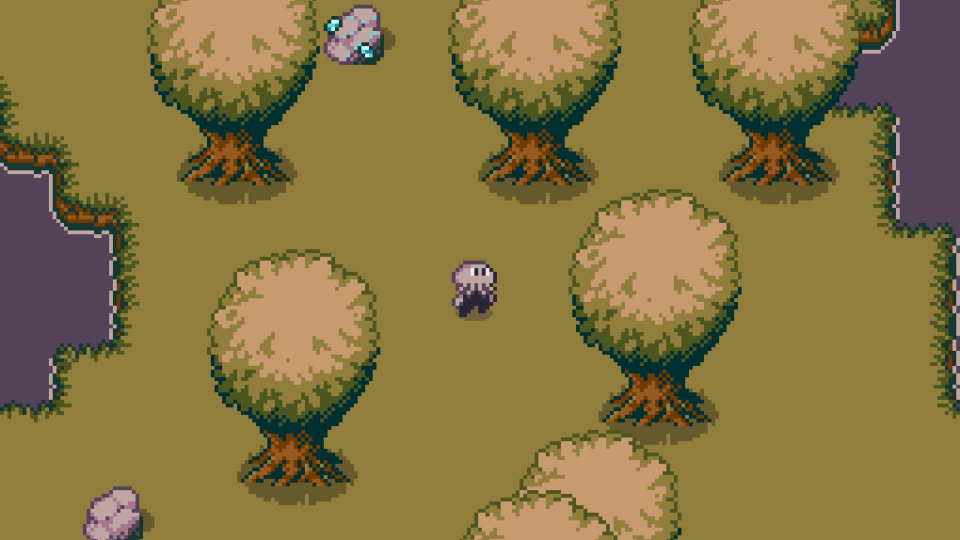 It's been more than two months since I last wrote a devlog and yet there is no lack of content, because I have a lot to tell you. December was a busy month, with my arrival in Japan I spent more time eating ramen than fixing bugs on GameMaker. I also did a two-week freelance mission, which took up a lot of the time I had originally planned for Game Dev.
To refresh your memory, here is a short summary of the last article:
I explained the changes in the camera movements
Then I told you about the ideas I had for the game's story and the protagonists
By the way, I took the opportunity to make the portrait of a character in pixel art with parallax
Finally, I shared with you my pixel art, manga & Patreon creation inspirations
That's it, and now you'll quickly realize that in two months things have changed a lot. Changes in the ideas, a very different pixel art, a story that is growing...
Pour yourself a coffee (or have it poured for you, it's none of my business) and enjoy!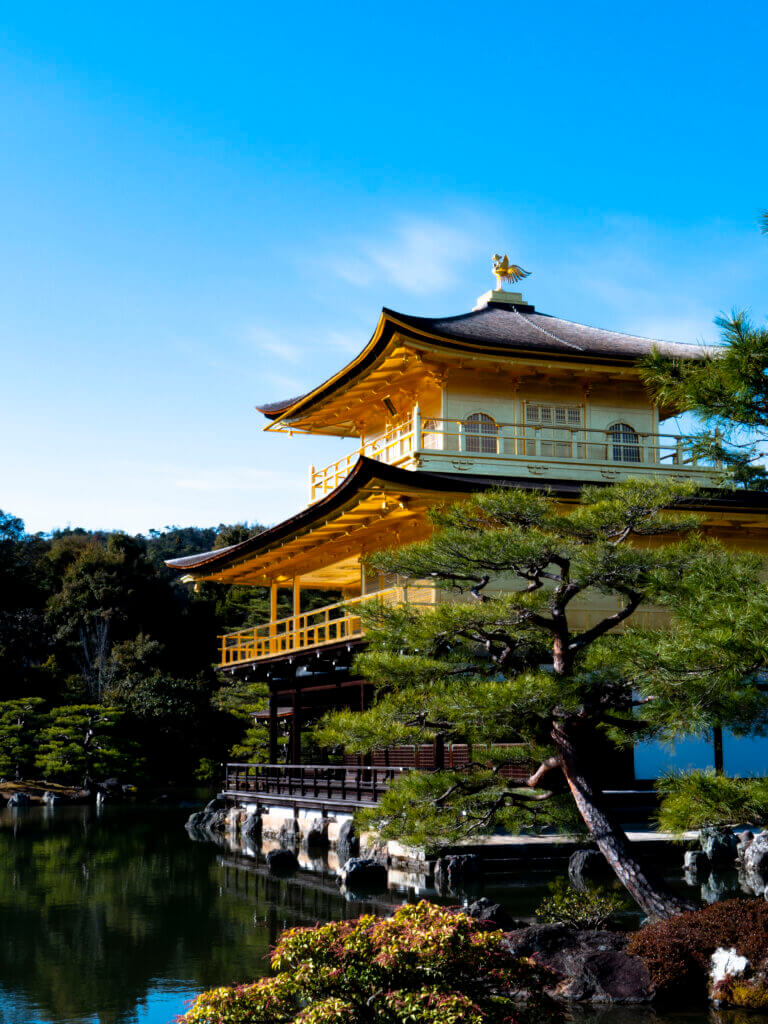 Change of course
After the Minijam I participated in October, I started to work on the continuity of my game, which is a kind of mix between a Cookie Clicker and an RTS. Well, I totally reconsidered that idea.
I didn't want to make a Cookie Clicker like. I love this game, don't get me wrong. But I don't think that's where I'm headed. In the euphoria of the Game Jam I think I didn't step back enough, or at least enough to ask myself the question, "Is this the kind of game I want to make?" Spoiler alert: no. I had a lot of fun at one Jam, but to spend the next 2 years of my life there, I don't think.
Back to the roots
In fact, when I talk about my inspirations in my very first article (I just realized it was June 2022, time flies, chase your dreams now or lose them forever), it's mostly action games. Pewpew, RPG, fighting, inventory, spinning and farming as an omnipresent gameplay element. That's the kind of game I want to make. By the way, I was already writing the same thing here, so I consider that the Gam Jam was a small deviation from my original desires. It allowed me to meet people and exchange with other developers, but now, back to my roots.
I still came away from my little Vampire, I think it's cool to play a character with a "bad" aura. I was able to reuse all the scripts I've created since I started working on Game Maker (including some during the Jam), and I was quickly able to set up a level to walk around in.
Camera head and pixel art revival
Game dev in January, do what you want (not)
My month of January had two main focuses: the first was fixing bugs with my camera. I had a lot of trouble with something that, in my mind, should be much simpler. Let's move on from this technical subject, I finally managed to make something that works at the moment, it's not optimal and I know I'll have to come back to it one day, but for the moment, it's not my problem anymore.
Evolution and improvement of my Pixel art
The second axis was the evolution of my graphic style. As you can see, I put aside the 1Bit pixel art. I found it too frustrating, too minimalist and felt really limited. Also, I think subconsciously I was always afraid I couldn't do more. When I see the work of other pixelartists I feel like I'm stuck with so much talent.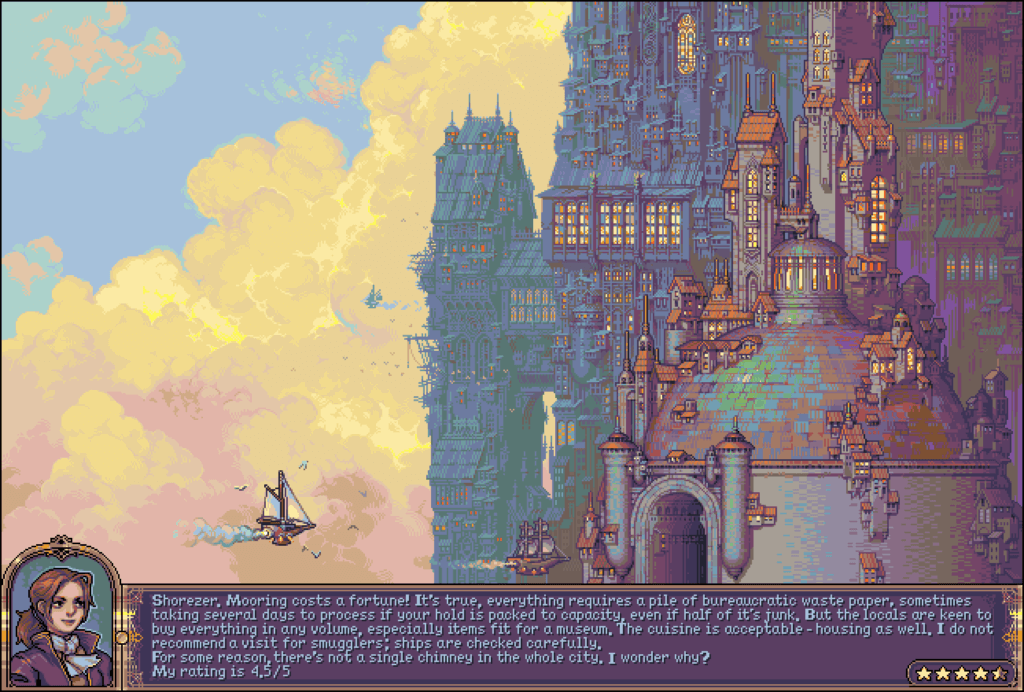 Accept that it's not perfect on the first try
"Done is better than perfect" has become my new mantra. With time, I understand that it's not necessarily by being the best developer (I know many better than me) nor the best designer (idem) that I will succeed in this business. Of course, it helps, we won't lie, I prefer to spend 1 day fixing my bugs instead of 3. But I think that what counts the most is tenacity, perseverance, setting goals and progressing little by little. Because it's so easy to give up and not see the end.
Done is better than perfect.
Good artists copy, great artists steal
I thought "if others can do it, why can't I? I took time to study their way of creating, how to play with colors, shadows and lights effects, and result... I am still very far from their level, but I have assets that I like. Talent is something you have to work on, and it's always hard to compare yourself to people who have more than 10 years of experience. So I'm going to continue on this path, to improve my pixel art when I think it's worth it, and accept to validate designs that are not perfect. Time will do the rest.
And then, when I look back, I have the satisfaction of seeing how far we've come, I like the evolution.
From 1bit to my color palette it's just a click away
To go from black & white to color, I used a palette (on the left) that comes from the very good site Lospec. This way, I could quickly validate the main elements (trees, rocks, characters), and then choose my colors more carefully. I wanted to create a gloomy atmosphere, so I took inspiration from what I had saved on my Pinterest to come up with a pastel color palette (right). Less contrast, more warm colors and I think I have a mood more in line with my theme!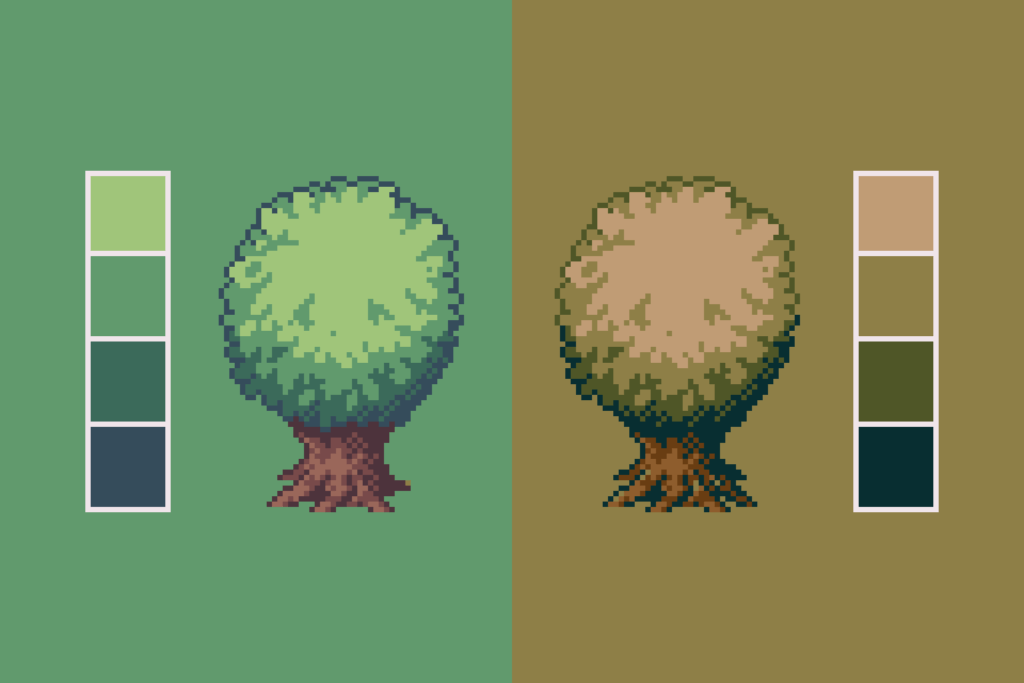 H. P. Lovecraft can you hear me?
As far as the story goes, I find my little Cthulhu very endearing and I decided to make him the main character. I already had a cute vampire in my game, so I just gave him more personality. Yes, it's directly inspired by H.P. Lovecraft's stories, so if anyone knows anything about copyrights, I'm interested.
I have a plot that I like, a beginning and an end in mind, I just have to fill in everything that goes between. I don't think I'm doing a one shot, often my ideas come as I develop them. A bug on a feature(like the Creeper in Minecraft), or a chance encounter in my life can be the origin of a new idea, I just take notes and decide in a second time if it's relevant.
For the moment, I'm not going to focus too much on this aspect, I'm mostly going to advance the gameplay to have a prototype (v1 when I get back to France?). I think it's more interesting to proceed in that order.
Write my milestones to force me
Juggling travel and work is quite complicated, I feel like I'm moving in slow motion. So to help me achieve my goals, I'm going to write them down somewhere. To my future self, here are the next things to do on your checklist before February 24th:
Publish another article, the goal is to make 1 to 3 articles per month, even if it means making it shorter
Send the first newsletter
Put a polish on the trees of the game
Add rain
Create crows
Add animations for water
And finalize the look of the inventory. That's all.
I hope you liked it. That's all for this dev log, I'll see you in about twenty days for the rest, take care of yourself.

See you later!
---
---